The upcoming entry in the series promises a deeper social experience.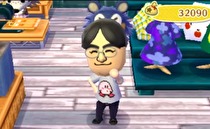 Animal Crossing on 3DS, coming to Japan on November 8, will have a stronger social focus, including StreetPass functionality, according to a recent Nintendo Direct video.
Using StreetPass, players can visit other people's homes and explore them on their own leisure. The amount of homes available in this "model park" is limited, but it will only start to replace homes after 48 houses. Characters will walk around this area, doling out items such as ice cream, balloons, and pin wheels.
Players also have the option to visit someone's town when dreaming by visiting a massage parlor (seriously). This allows players to see how other people have set up their towns. Trees can be cut down and fruit can be collected, but it won't impact their village in the slightest. These dream towns can be accessed by connecting over the internet and finding the specific person's village number.
Animal Crossing also supports local and online play for up to four players. These four friends can visit any part of the town freely with one another, and have the option of enjoying many new activities. Some of these activities can be found on the new tropical island, which is populated by Kappas. A variety of activities and missions can be played among friends, giving out medals, which are spent on shops on that same island. An example of one of these missions was shown in the presentation, and involved collecting various fruit in a big massive maze. The host of these games is Tortimer, the old mayor of the Animal Crossing games, who has fun screaming at you and making sure that you know what to do.
Animal Crossing 3DS will be available in Japan on November 8th and will come to the west in 2013. Currently, the North American version is set for the first half of 2013, and the European version is just the ambiguous 2013.