Nintendo reveals the first set of downloadable levels for the hit 3DS title.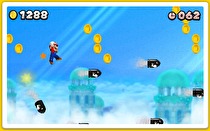 In the latest Nintendo Direct video announcement from Japan, the company has announced new details on how optional level packs will be available in New Super Mario Bros. 2. The DLC feature was announced earlier this year, but no other details were known until now.
The first set of DLC will be grouped into three Coin Rush packs, each containing three levels for the game. The first pack emphasizes the Golden Mario ability to generate massive quantities of coins; Mario is also shown blasting through large groups of bricks with his golden fireballs. The packs are accessed through the Coin Rush menu, but you'll only see the option to view these new levels if SpotPass is activated for New Super Mario Bros. 2.
The first Coin Rush level pack will become available in Japan on October 2nd and is priced at 200 yen. The second pack will follow at the end of October, and the third will arrive in late November. We do not yet have any information on the date or pricing for other regions.