n-Space's 3DS RPG will get a playable demo in another region next week.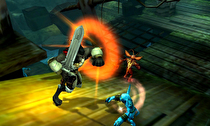 A demo for Heroes of Ruin will launch on the North American eShop on July 5, according to n-Space's Dan O'Leary. The demo came out in Europe on June 7.
Heroes of Ruin is also already out in Europe, coming out a week and a half ago. It doesn't come out in North America until July 17.
For those who haven't followed it, the game is an original Diablo-esque game featuring mad loot, random dungeons, four-player local/online co-op, and voice chat. Also, n-Space will supply daily content via SpotPass.