Looks like we won't be getting bored of this game.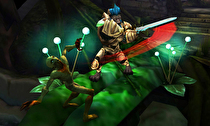 Heroes of Ruin will feature daily DLC for an entire year, Nintendo announced at their European Nintendo Direct presentation.
Heroes of Ruin is due out in Europe on July 15, and for a whole year players will have new downloadable content to enjoy. The downloadable content will be completely free. Nintendo also reconfirmed the games full online voice chat capabilities.
Heroes of Ruin comes to North America on June 26. You can read recent impressions of the game here.