Looks like it's not just the games anymore.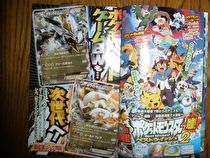 Pokémon Best Wishes 2, a new sequel series to the Pokémon Best Wishes anime, has been anounced in the latest issue of CoroCoro.
The new series will continue Ash Ketchum's journey through Unova, except with some fundamental changes. Mainly, more old Pokémon will appear in the series (similar to the upcoming Pokémon Black and White 2). Meloetta and the new Kami trio forms will also be making appearances. The next Team Rocket plot has been announced to feature Giovanni, and the return of Cynthia and Dawn will also be occuring to some extent.
The shift from Pokémon Best Wishes into Best Wishes 2 occurs in Japan on June 21, two days before the release of Pokémon Black and White 2.