What do Misty, new Pokémon forms, and something called Pokéwood have to do with each other? Read on to find out!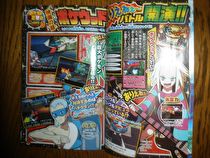 Details on the new Kami trio forms, plot, returning characters, and more were released in the latest issue of CoroCoro.
In addition to the previously known information that Tornadus, Landorus, and Thundurus would be getting new forms, it has been revealed that these new forms are called "Sacred Beast Forms" (as opposed to their traditional form, now referred to as "Incarnation Forms").
Tornadus' form carries a new focus on Defense, Special Defense, and Speed. Thundurus has a focus on Special Attack, and Landorus focuses on increased attack. The legendary Pokémon will be number 198, 199, and 200 in the new Pokédex, and will not have a type change between forms.
As hinted at in yesterday's original leak, old Gym Leaders and Champions will be available for battle in something called Pokémon World Tournament. Confirmed opponents so far include Janine, Blaine, Lance, Blue, Misty, Giovanni, Volkner, Steven and Brock.
Also confirmed is that Pokéwood is the name of the movie making feature hinted at in previous trailers. Pokéwood allows the player to select a scenario and then make the movie through the appearance of various battles.
Finally, CoroCoro released minor details on returning characters. Cheren and Bianca do reappear. In the sequels, Cheren is a Normal-type Gym Leader, and Bianca gives the player a starter on behalf of Professor Juniper. With that said, Juniper is not returning as the professor in the new games, replaced instead by Professor Burnett, who also appears in Pokémon AR Searcher. Champion Alder will also be returning, and appears early on in the game tasking the player to follow him, but any further details are unknown. N has not been announced for reappearance, though the magazine stated that no one seems to know where N is.
Pokémon Black and White 2 come out on June 23 in Japan, with western release to follow later this fall.