Looks like there's more to the Kami trio than meets the eye.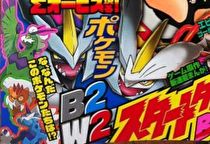 New forms for legendary Pokémon Tornadus, Landorus, and Thundurus were revealed in the latest issue of CoroCoro magazine.
Tornadus looks much like the bird creature silhouetted in The Pokémon AR Searcher shown at the most recent Nintendo Direct, and apparently, both Landorus and Thundurus undergo major aesthetic changes. The original leaker also states that Thundurus and Landorus are exclusively captured in Pokémon AR Searcher (and then transferred to Black and White 2), however, this is unconfirmed.
The original person to leak the scans stated that, also in the issue, Brock, Giovanni, Cheren, and Bianca are featured (with Cheren being a gym leader), and that Pokéwood (the movie theater seen in the trailer) replaces musicals in the game. The leaker also mentioned that there is a facility in the upcoming sequels where leaders from previous games appear, such as Lance, Blue, Misty, Steven, and Volkner.
As of right now, none of this (outside of the existence of new forms) has been confirmed, but we will update the article as more information becomes available.