The Japanese publication corrects speculation regarding the sequel status of these upcoming games.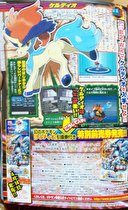 Pokémon White 2 and Pokémon Black 2 have been given box art and details in the latest issue of CoroCoro.
In the recently leaked magazine scans, pictures of both covers have been shown, reaffirming the assertion that the legendary mascots will be featured on games sharing their primary colors.
The scans also presented information on the direction the games, as reported by users on various Japanese message boards. Black and White 2 are complete sequels to Pokémon Black and White, featuring a new story and new features.
In addition, a new distribution for Keldeo has been announced for Japanese players. Pre-ordering tickets to the upcoming Pokemon movie (starting April 14) grants access to a special Level 15 Keldeo, distributed between June 23 and August 31. Those owning Black, White, Black 2, and White 2 are able to participate, and supposedly unlocks something in the latter two versions.