The DS will receive not one, but two sequels in Japan later this year.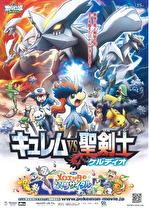 Two sequels to Pokémon Black and White have been revealed, titled Pocket Monsters Black 2 and Pocket Monsters White 2, as revealed on the latest episode of Pokémon Smash.
The announcement was made in the last few minutes of the show as Pokémon director Junichi Masuda appeared on the show to reveal two new forms of Kyurem (appearing to be fusions of Kyurem and the two mascot Pokémon, Reshiram and Zekrom), and the titles of the two games. The games will appear on the Nintendo DS and are set for a June release in Japan. The games are also noted to be playable "in 2D on the Nintendo 3DS," though the extent of any extra features remains unknown.
Masuda also revealed the official website for the titles on Twitter soon after the episode. On the North American website, the game has also been revealed as "coming soon." The localized versions will be called "Pokémon White Version 2" and "Pokémon Black Version 2."
Masuda later revealed that the two forms are in fact new legendary Pokémon, and the developer tweeted (in English) that their names are Black Kyurem and White Kyurem.