Capcom has acknowledged and will be fixing the mistake.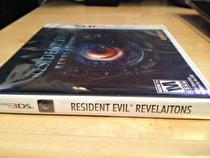 Box art of the North American version of Resident Evil: Revelations has a typo, publisher Capcom acknowledged.
Images circulating the internet via Twitter, revealed that the typo is not just an isolated incident. The side of game's box reads "Revelaitons" instead of "Revelations."
Capcom's Christian Svensson responded to the issue, "We're aware that this has affected a portion of the production run. There's likely to be some news to follow closer to launch on this topic." A Capcom representative followed up, "It has come to our attention that there was a misspelling on the Resident Evil: Revelations packaging, We apologise for the mistake, which will be corrected for subsequent productions of the game. We are working on a solution to provide affected customers with the correct packaging. Please visit Capcom-Unity for updates."
This isn't the first time that Capcom botched a game cover. Previously, Capcom shipped Okami box art with an IGN watermark included. They offered free replacement covers through a form on their website.
The game is set to release in North America on February 7.
Image uploaded to Twitter by Twitter user Danshoehsu