Those with copies of the game can get the psychic Pokemon in February.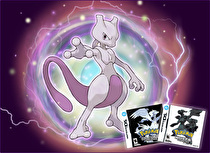 The legendary Pokémon Mewtwo will be distributed over Wi-Fi to owners of the North American version of Pokémon Black and White, starting February 12.
It was also revealed that Mewtwo will recieve an exclusive move it can not normally learn. Last October, a similar Japanese event distributed a level 70 Mewtwo with the exclusive move Electro Ball, along with Shadow Ball, Aura Sphere, and its signature move, Psystrike.
As of yet, no end date end date for the promotion have been announced, nor have any other countries been confirmed to be participating in the promotion. However, as reported by Serebii, all English speaking copies of the two games run off of the same Wi-Fi servers, so it is possible that other English-speaking territories will get Mewtwo at the same time.