The Tao dragons will appear to those who had no opportunity to catch them in their original versions.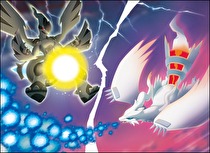 Reshiram or Zekrom will be distributed to Pokémon Black and White starting March 10.
The distributed legendary Pokémon is specific to which game a player owns. If the player has Black version (featuring Reshiram as a mascot), they will be given Zekrom, and if the player has white version (featuring Zekrom), they will instead recieve Reshiram.
Both distributed Pokémon come at level 100 in Cherish Balls and adorned with a Wish Ribbon. Zekrom and Reshiram will also have special movesets not normally available in-game. Zekrom will have Bolt Strike, Fusion Bolt, Haze, and Outrage; Reshiram will have Blue Flare, Fusion Flare, Mist, and Draco Meteor. In addition, both creatures will unlock access to new C-Gear skins as well as a special Pokémon Dream World location based on the upcoming film.
The promotion runs until April 8.