The oddest franchise crossover event... EVER?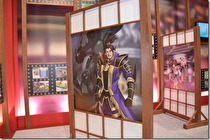 The newest Pokémon game is a crossover with Tecmo Koei's Nobunaga's Ambition, Dengeki Online recently revealed.
Pokémon + Nobunaga no Yabō is set to be released for the DS in spring 2012 and will feature characters from both franchises in a tactical RPG setting. Nobunaga's Ambition takes place in ancient Japan where players command various forces to conquer different parts of Japan. How the Pokémon will be used in the field of battle remains unknown at the moment.
A booth for the game was also seen at the Jump Festa event, which also disaplayed the game's first set of screenshots. The Pokémon Company is working closely with Tecmo Koei games in the development of this title.
4gamer has a set of pictures of the booth here. The official site is here.
Thumbnail image courtesy of 4gamer