The blue hedgehog will be rolling through green hills on the 3DS and a Shinobi game is very likely on its way.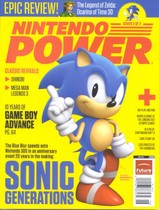 Update: The Nintendo Power article on Shinobi confirms that the new entry in the series is for 3DS.
Sonic Generations is definitely coming to 3DS, and a Shinobi revival is also on the way to a Nintendo system, the upcoming issue of Nintendo Power confirms.
The new Sonic adventure, which is also heading to Xbox 360 and PlayStation 3, will feature the modern Sonic teaming up with his 16-bit iteration to battle Eggman (Dr. Robotnik) through new takes on classic stages.
While the cover of the new Nintendo Power only reveals that the Shinobi franchise is being revived, a resume for Griptonite Games artist Branden Brushett listed Shinobi for 3DS as a title he had worked on (the resume has been updated and no longer mentions Shinobi). It is not a 100 percent confirmation that the new Shinobi title is heading to 3DS, but it lends strong support to the idea. Past titles in Sega's Shinobi series let players take on the role of an acrobatic ninja who used weapons like throwing knives to take out foes.
The Nintendo versions of Sonic Generations and Shinobi are likely to make an appearance at E3 2011, and NWR will be there to bring you all the latest information.
Thanks to BlackNMild2k1 for pointing this out.