Sega revealed the previously unknown version of the upcoming Sonic adventure in their financial announcement.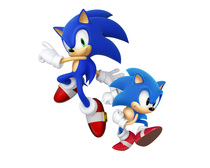 Sonic Generations is apparently headed to the 3DS. The upcoming 2D/3D platformer was listed in Sega Sammy's earnings report.
The game, which had previously only been announced for the Xbox 360 and PS3, unites the "classic" 2D Sonic gameplay with the "modern" 3D platformer. Generations features levels playable in both 2D and 3D modes and is a major part of Sega's commemoration of Sonic's 20th Anniversary.
Sonic Generations will be released later this year.