Marvelous and XSEED giving Natsume some competition.
Story of Seasons is Marvelous AQL's heir to their long-running series, stripped of the Harvest Moon title in the west due to licensing issues with Natsume, who are currently developing their own separate Harvest Moon. Name-change aside, the big difference between this game and its competitor is the widely different direction it chooses to take, into a world of social connections and complex economics.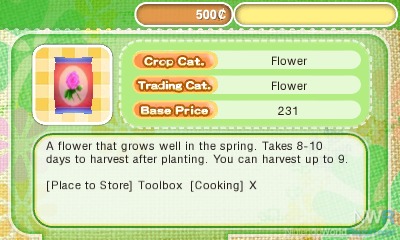 As with many of the Harvest Moon games in the past, relationships strongly contribute to the overall success of your farm, but this time, it isn't just about giving gifts and making friends. Making money with your crops and goods is determined in trade with other countries. Players start off on a fairly simple scale with only one country engaging in trade, but as your game progresses, more become unlocked and each will have specific wants and needs that gamers can track and use to their advantage. Video games getting more complex as players progress isn't a new concept, but it's definitely a welcome sight in this series where, in the past, money and success were only hard-earned in the beginning. Trading with other countries will also increase your relationship with them, increasing the probability of receiving special exotic animals for your own personal safari.
The animal safari is an interesting place, with a variety of landscapes to accommodate animal-gifts from your trade partners. In the demo, we were only allowed to play with the animals and fish in the pond, but we were told that in the future, hosting safaris will be beneficial to players as a method of bringing tourism to their town.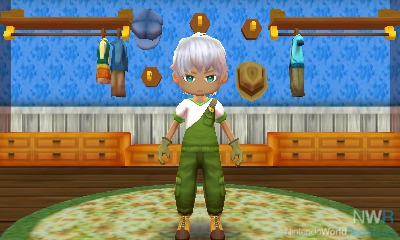 Character customization is a feature Marvelous has chosen to run with as result of positive feedback from the customization in Harvest Moon: A New Beginning. Naturally players can choose a male or female avatar in the beginning, but each time you step into the closet, you can change skin tone, hair color, and eye color as well as just about everything you're wearing, right down to the style of glasses. Even more accommodating, clothing choices are not limited by a gender binary. Guys who want to wear dresses? No problem, and more new clothing can be made throughout the game by purchasing patterns from the Trade Station and using them with your own materials. Yarns can also be bought from town for players who might choose not to make it themselves. The wide variety of clothing styles really provides something for everyone, whether you want to be goofy, cute or pretty.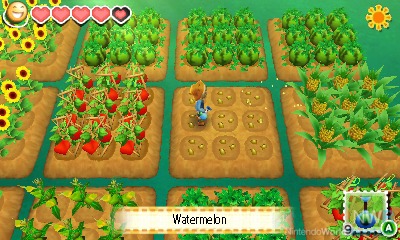 Previously streamlined features make reappearances in this game, with a new addition to boot. The bag sub-menu has fortunately been kept to make tool-use relatively quick, but players can now water plants, seed plots and even harvest their crops in just two steps: click on the crops and they condense into a single box; then a player can pick up the box to store it in their inventory. Whether or not this eliminates the quality grading system for crops has yet to be seen.
Both Story of Seasons and Natsume's Harvest Moon: The Lost Valley are slated for release later in the year. While Story of Seasons has already had a very positive Japanese debut, only time will tell how these two titles will be received in the west, and whether or not either approach to the well-known farming-sim series will meet with success.