The Marvelous-developed 3DS game is Harvest Moon in all but name.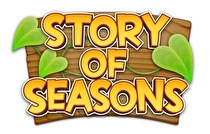 Xseed Games is localizing the most recent game in the Bokujo Monogatari (Harvest Moon) series for release this winter in North America. The game came out in Japan earlier this year as Bokujo Monogatari: Tsunagaru Shintenchi (Farm Story: Connect to a New World), but will be simply titled Story of Seasons in its localized form.
The reason for the change in branding is simple: Natsume, the longtime overseas publisher of the Harvest Moon games, has the rights to that name. With this entry being published by Xseed, a subsidiary of series developer Marvelous, a new moniker was required.
Being developed by the same team, it carries on the series' signature elements and will offer an experience in line with what Harvest Moon fans are used to. Players will customize a character and move them into Oak Tree Town, where they'll have to tend to the hard work of farm life and relationships.
There will be new elements, of course, including multiplayer and StreetPass components allowing players to tour each other's farms, cultivate crops together, and exchange gifts. There will also be some decorative items inspired by Nintendo's Mario franchise.
Story of Seasons will have a presence at E3 2014, so check back then for more information.