Game Boy Advance
Mr. DRILLER 2
Visit the Wii U game profile for more NWR coverage.
Mr. Driller returns to drill his way through more delicious-looking coloured blocks that have been appearing in cities around the world. Anna Hottenmayer, Mr. Driller's new rival, is determined to show him who the better driller is!
The game features Mission Driller, Endless Driller and Time Attack modes of play, or you can choose to take on a friend in the two player versus mode.
Screens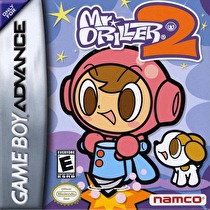 Genre
Puzzle
Developer
Namco
Players
1 - 2
Worldwide Releases
Mr. DRILLER 2
Release
Apr 10, 2005
Publisher
Namco
Rating
Everyone
Mr. Driller 2
Release
Mar 21, 2001
Publisher
Namco
Mr. Driller 2
Release
Jan 30, 2004
Publisher
Infogrames
Rating
3+