We got your Hollow Knights and Axiom Verges ready to go.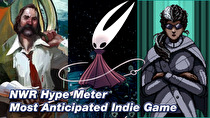 10. Card Shark
Hype Level: 3.87%
Card Shark popped up an Indie World presentation in 2020 and looks to be a neat Devolver Digital-published take on roguelikes. From Reigns developers Nerial, you make use of card tricks and deceptions to make your way through 18th century Europe. It's due out in 2021 and might have a card or two up its sleeve.
8. (Tied) Eastward
Hype Level: 4.52%
Eastward has a release date that keeps slipping, but the style is evocative and memorable, so it's not that much of a shock it's popping up on our list. It seems like a fun blend of adventure and action RPG ideas as you control two characters in a post-apocalyptic world. The artwork is a striking 2D style inspired by '90s Japanese animation that combines modern lightning with retro-styled pixel art.
8. (Tied) Spelunky 2
Hype Level: 4.52%
Revealed in the last Indie World of 2020, Spelunky 2 is coming to Switch in the summer of 2021. That's fantastic news as both this game and the original are indie royalty. The first Spelunky is a flipping masterpiece, and come this summer, we should be playing both on Switch. What a world.
7. Ex-Zodiac
Hype Level: 5.16%
Every time a Star Fox game makes the list, John Rairdin gets his wings. Ex-Zodiac isn't even confirmed for Switch, but this Kickstarter success looks fantastic.
6. Wonder Boy - Asha in Monster World
Hype Level: 5.81%
The Switch has been a haven for great Wonder Boy remakes, sequels, and derivatives, so hopefully Wonder Boy - Asha in Monster World continues that trend when it comes out at some point in 2021. The game is directed by series creator Ryuichi Nishizawa with a lot of the other original creatives as well.
5. Cris Tales
Hype Level: 9.03%
Have you heard about Cris Tales? No? Go play the demo, available on Switch, right now. This inspiring RPG seems to mix and match a lot of classic JRPG styles, mixing everything from vintage Paper Mario to the time-traveling chicanery of Chrono Trigger into one really attractive package. This was near the top of my personal list and I am hopeful the "early 2021" release window holds true.
4. Cyber Shadow
Hype Level: 11.61%
Set for release at the end of January, Cyber Shadow brings Yacht Club-supported ninja action to the fore. Headed by indie dev MekaSkull, Cyber Shadow is more Shadow of the Ninja than Ninja Gaiden, but regardless, this looks to be the ninja compatriot Yacht Club's Shovel Knight has always deserved. We should be getting our hands on it soon and hopefully this is as polished and delightful as Shovel Knight.
3. Disco Elysium
Hype Level: 13.55%
I haven't heard that much about Disco Elysium, a little bit by design. Someone told me that your character stats talk to you in this game. That's insane. Anyway, I believe the people that tell me to be hyped for CRPG-inspired highly acclaimed game. I look forward to dipping into it on Switch.
2. Axiom Verge 2
Hype Level: 14.84%
When Axiom Verge 2 was announced for a 2020 release at the end of 2019, I felt like I heard that story before and didn't totally expect it to be out in 2020. I didn't factor in a global pandemic pushing it to 2021, but regardless, the first Axiom Verge is so good that I'll wait patiently for Tom Happ to make this sequel. Starring a new hero in a connected narrative, this looks to bring more of the old-school Metroid-inspired exploration and action, as well as some novel additions that Happ hasn't even detailed yet.
1. Hollow Knight: Silksong
Hype Level: 22.58%
Critical darling Hollow Knight wowed us with its strikingly beautiful backdrops, distinct character design, satisfying combat, challenging-yet-beatable bosses, and cryptic storytelling of a small knight exploring the kingdom of Hallownest. The dark, dour opening area gave way to one of the most intricate and beautiful game worlds in any Metroidvania, indie or not. Team Cherry even trying to recapture that magic is plenty to get fans hyped, but every piece of Silksong promo looks absolutely fantastic. Hornet is faster and more fluid than the knight, and the world seems more alive than the disaster-stuck Hallownest. We can't wait to see what mess Hornet has gotten tangled up in and how it all ties together.
That makes it a no-brainer that it tops our indie hype list to have another chance to explore its world as Hornet, the undeniably coolest character in the game.