We give love to Pokemon, Link, Lucina, and more.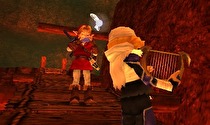 10. The Legend of Zelda: Ocarina of Time 3D
Publisher: Nintendo
Developer: Grezzo
Release Date:: June 19, 2011
Review Score:: 9.5/10
In 1998, Ocarina of Time was a groundbreaking masterpiece on the Nintendo 64. The 3DS version, coming 13 years later, is the clear, definitive version of that masterpiece. It's the same, fantastic adventure with refined controls and excellent stereoscopic 3D. The added Master Quest, while locked behind beating the game once, also provides a wonderful change of pace for anyone overly familiar with the original.
9. Luigi's Mansion: Dark Moon
Publisher: Nintendo
Developer: Next Level Games
Release Date:: March 24, 2013
Review Score:: 9.5/10, 9.5/10
The 12-year gap between entries in the Luigi's Mansion series was worth it, as Next Level Games' stab at the Luigi spin-off is a deep, engrossing adventure that is an awesome portable adventure. With multiple mansions, rewarding collectables, and challenging puzzles, Luigi's Mansion: Dark Moon is, without a doubt, one of the best games on the system. And that multiplayer actually turned out to be really unique and interesting to boot.
8. Pokémon X/Y
Publisher: Nintendo
Developer: Game Freak
Release Date:: October 12, 2013
Review Score:: 8/10, 8/10
Pokémon X and Y was the biggest graphical and technological leap for the series to date, and while large swaths of the new engine weren't even in stereoscopic 3D, the overall experience was still just as engaging as ever. The pair of Poké-games are also the friendliest for new players, with a much gentler difficulty curve than some past games. It also added Mega Pokémon and the new Fairy type, bringing more complexity and balance to the franchise's battles.
7. Shovel Knight
Publisher: Yacht Club Games
Developer: Yacht Club Games
Release Date:: June 26, 2014
Review Score:: 10/10 (Wii U version)
This Kickstarter success story feels like a long-lost NES classic that the world somehow missed, combining the level design of Mega Man, the combat of Zelda II (and DuckTales), the money-hoarding of Sonic, and the music of Jake Kaufmann, and a surprisingly emotional storyline. This tremendous platformer is simply a masterpiece that brings together everything you love about classic games and makes it modern. Even the StreetPass implementation on 3DS is fun! Best part? The team at Yacht Club is working on more content for it, including a battle mode, new playable characters, and more.
6. Fire Emblem Awakening
Publisher: Nintendo
Developer: Intelligent Systems
Release Date:: February 4, 2013
Review Score:: 9.5/10
While Fire Emblem has been a beloved niche series since it finally came to America back in the early 2000s, it wasn't until Fire Emblem Awakening that it seemed to become more than that fun strategy RPG series Nintendo trotted out every now and then. Awakening is, in some ways, a celebration of the entire franchise, and because of that, it serves as both a reminder to old fans of how great the series can be, and a perfect entry point for new ones who want to experience what makes the series fantastic. It's also weird that there essentially three Smash Bros. characters that came from this game.