The 3DS is just about three years old. We celebrate by updating our Top 10 list.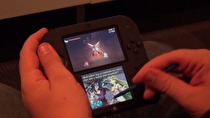 On March 27, 2011, the 3DS launched in North America. It was in its goofy taco-like form, but it was out in the wild alongside Pilotwings Resort, Super Street Fighter IV, and Steel Diver.
Since then, we've seen two new iterations (the XL and the 2DS) and a whole bunch of games, including a heck of a lot of good ones. Last year, we made our Top 10 list. Being as more great games hit the 3DS in the past 12 months, we decided to update it.
Keep in mind: the Top 10 list is decided by our staff, and here at NWR, our staff changes and sometimes so do our opinions. This isn't the definitive list of the best games on 3DS. Instead, it's the only list we could sort of agree on (after lots of fighting). We'll show you our Top 10 and then some staffers will chime in with their honorable mentions.