Two NWR staffers pit the virtues of discs against downloads. Who wins? You decide.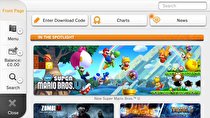 For some, it is a case of 'old habits die hard.' For others, the new technological era cannot come soon enough. Chances are that those of you reading this have gravitated towards one of these two camps since Nintendo took the plunge into the digital age with the 3DS and Wii U eShop, offering full retail games in download form in addition to their traditional physical media.
As it turns out, the Nintendo World Report staff is quite evenly divided between the old and new schools. Therefore, in an effort to make sense of the endless argument over what media is best, we asked one advocate of physical games and one proponent of digital games to make the five-point case for each.
Once you have read and digested what they had to say, we encourage you to join the discussion in the forums and let us know whether you prefer to buy your games at retail or download them instead. Long may this debate continue...