Danny delivers verdicts on grappling hooks, monsters and beautiful settings.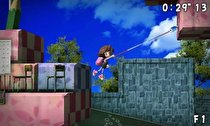 Yumi's Odd Odyssey - Nintendo 3DS
In case you missed our coverage of this game on multiple episodes of the Famicast or the review from December, Yumi's Odd Odyssey is a game that should be on your radar. Unlike the fate of some games released in Japan, this one is actually set to see a release in the West this year. Yumi's Odd Odyssey isn't perfect, but the grappling hook gameplay, challenging stages and just overall weird aesthetic that permeates the game help create a unique experience that can't be found in other titles. To read more about it, be sure to check out my review here.
Dragon Quest VII: Eden no Senshi-tachi - Nintendo 3DS
Square Enix has been very busy pushing out quality titles on the 3DS, especially in Japan. Dragon Quest VII, released last February, is an enhanced remake of the Playstation title that released over a decade ago. This new version features updated visuals, better pacing than the original and an overall more modern feel in terms of gameplay and the leveling mechanic. The art direction holds true to the original concept and looks extremely colorful and charming. Dragon Quest VII has yet to be announced for a Western release, but keep your fingers crossed for some old school RPG love from Square Enix. You can read more about the game here.
Daigasso! Band Brothers P - Nintendo 3DS
The third entry in the rhythm game Band Brothers series, Band Brothers P takes what was great about the previous games and turns it up a notch. While the first two titles were known for challenging gameplay, creation tools and catchy digitalized versions of songs, P retains all of that while adding more to the mix. This time around, simultaneous online play for up to ten players is possible via the Nintendo Network, a simplified Beginner mode utilizing the touch screen has been added and the tools for creating new songs are more complex than ever. Add that and somewhere over 3,000 songs to the mix, and you have a wonderfully crafted rhythmical experience that is exclusive on the 3DS. To read more about the game, be sure to check out Daan's review here.
Bike Rider DX2: Galaxy - Nintendo 3DS Download Software

This quirky, bike riding runner title was released in late 2013 in Japan on the Nintendo 3DS eShop by Spicysoft. The concept is simple: ride a bicycle on a 2D plane through various obstacles to reach the end goal. Along the way are dangers and power-ups that can do things, like give the bike and rider the ability to fly or put a big drill on the front of their bike to plow through blocks. Bike Rider DX2: Galaxy also spans numerous worlds each with their own distinct, beautiful settings and is just easy and fun to play. With the addition of online leaderboards, an endless Grand Prix Mode and DLC, Bike Rider DX2 is a blast. Check out Daan's review for the game here.
*EX Troopers - Nintendo 3DS
Okay. I get it. This game technically was released in late 2012 in Japan (hence the asterisk), but, after some discussion, we decided to put this game on the list for 2013. Why? Well, aside from loving the game to pieces, both of us spent more time playing the game last year and try to make it a point to include in any conversation about the 3DS. For those unfamiliar with the game, EX Troopers is an anime/manga spinoff of the Lost Planet series. It's a third person shooter/action game that only released in Japan oh the Nintendo 3DS and Playstation 3. The game is absolutely beautiful, featuring fantastic visuals, art direction and simplified controls that are accessible even for those of us out there that aren't hardcore Gears of War fans. At this point, you might as well lose all hope for the game coming out to a region near you since the developers hard coded the Japanese into the game and never intended the game to leave Japanese shores. Still, if you have a Japanese 3DS (or PS3), you should get this awesome game. To read more about the game in detail, check out my impressions here.