We roll up our sleeves, throw some Pokéballs and try to order them all.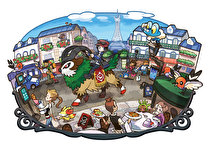 Figuring out our refined favorite five Pokémon games was no easy task, involving some internet slap fights, a few terse sarcastic remarks, and the occasional Quick Attack. We emerged through that time with a list of five Pokémon games that we feel are the best of them all.
Note that we count a generation as a game, so for example, Gold, Silver, and Crystal are counted as one game. Also, we did include spin-offs, and someone even made a play for including Super Smash Bros. Melee (which actually got more votes than Pokémon Black 2 and White 2).
I can assure you that Melee missed the Top 5 and that all of the following games include the word "Pokémon" in their name. Hope you enjoy our list, and if you think we're right or wrong, let us know in the comments.