A Famicom Konami fighter, sumo, Super Mario Kart and revitalized Japanese classics permeate the eShop this week.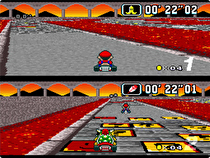 Even before the official firmware update on the 3DS, it's been pretty busy this week. In case you haven't heard, Nintendo rolled a new firmware update for the 3DS that contains tons of updates, including some DLC (kinda, right?) for the Mii Plaza among other things. For more on that, be sure to check out our news story. Aside from that, this week is full of some Japan only titles (go figure!) like Yie Ar Kung Fu, a fighting game from Konami that is considered by some in Japan as the basis for the fighting genre, Tsuppari Ōzumo, a sumo wrestling game on the Famicom, and a few other new releases which tie into pre-existing Japan exclusives. Be sure to check out below to see what Japan is getting this week!
3DS
Downloadable Software
Maru Gōkaku! Care Manager Shiken (Care Manager Test Studying software) - 2,800 yen (from 6/20)
Kuma Tomo (Bear Friend, retail title) - 4,980 yen (from 6/20)
Sayonara Umihara Kawase (retail title) - 4,500 yen (from 6/20)
Ninja Jajamaru-kun Sakura Hime to Hiryū no Himitsu (retail title) - 3,800 yen (from 6/20)
Mame Goma Happy! Sweets Farm DEMO - FREE
Toriko Guru Mega Battle DEMO - FREE
Gyakuten Saiban 5 (Ace Attorney 5) DEMO - FREE
Virtual Console
Yie Ar Kung Fu (Famicom) - 500 yen
Tsuppari Ōzumo (Sumo Push, Famicom) - 500 yen
Wii U
Downloadable Software
New Super Luigi U (DLC for New Super Mario Bros. U) - 2,100 yen
Virtual Console
Wrecking Crew (Famicom) - 500 yen
Ninja Jajamaru-kun (Famicom) - 500 yen
Super Mario Kart (Super Famicom) - 800 yen
Video Content
We have quite a few videos on the eShop today. On top of the usual gameplay videos for all of the Virtual Console and Downloadable titles from this week, Nintendo has an informational video about the recently released StreetPass titles. The video shows off gameplay for each of the new mini-games in pretty comprehensive detail. Digimon: Re: Digitze Decode also has as a preview video which showcases gameplay footage and in game cut scenes. There is also a preview video and commercial for Toriko Gourmet-ga Battle, a new collection of two commercials for Tomodachi Collection and a preview for Mame Goma Happy! Sweet Farm. To wrap up E3 coverage on the eShop, and Nintendo put together an almost five minute long video (created by NOA, complete with Japanese subtitles) highlighting all of the games announced, a tour of the booth and thoughts from Nintendo fans about the software they got to try out.