Final Fantasy VI, Secret of Mana and Mario Tennis (GBC) all arrive on the same day!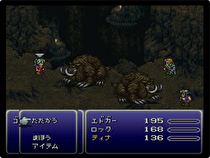 It's a pretty packed week for releases here in Japan. Not only are quite a few 3DS downloadable titles making their way to this side of the world, the Game Boy Color Mario Tennis is making it's debut. Heck, Square Enix is even giving us two great RPGs in Final Fantasy VI and Secret of Mana! That and one of my personal favorite games of 2012, Rhythm Thief, is also getting a digital release! So strap yourself in and check out what's happening in downloads this week in Japan!
3DS
Downloadable Titles
Gekiyaba Runner (2 Fast 4 Gnomz) - 300 yen
3D Ecco the Dolphin - 600 yen
Super Little Risu (Squirrel) 3D (Super Little Acorns 3D) - 500 yen
Shin Sekaiju no Meikyū Millennium no Shōjo (Etrian Odyssey Untold: The Millennium Girl, retail title) - 5,300 yen (from 6/27)
Digimon World: Re:Digitize Decode (retail game) - 5,480 yen (from 6/27)
Rhythm Kaitō R Napoleon no Isan (Rhythm Thief & the Emperor's Treasure, retail title) - 2,600 yen
Card Fight!! Vanguard Ride to Victory!! DEMO - FREE
Hitsuji no Shaun Vol. 5 (Shaun the Sheep Vol. 5, 3 videos per volume) - 200 yen
Virtual Console
Mario Tennis GB (Game Boy Color) - 600 yen
Wii U
Downloadable Titles
Injustice: Kamigami (Hero) no Gekitotsu (Injustice: Gods Among Us, retail title) - 6,780 yen (from 6/27)
F1 Race Stars Powered Up Ediion (retail title) - 7,140 yen
Virtual Console
Seiken Densetsu 2 (Secret of Mana, Super Famicom) - 800 yen
Final Fantasy VI (Super Famicom) - 900 yen
Video Content
To kick things off, there are some new videos for the upcoming 3DS release Toriko Gourmet-ga Battle. The title, which is based on the Toriko anime series in Japan, is a 2.5D action adventure game that has you playing as characters from the series in an attempt to find and eat delicious food. It's kind of wacky, but that's apparently consistent with this anime and manga. There was a short commercial and a second, nearly five minute long preview video available. The game looks great, sporting 3D characters in a side scrolling 3D world. Honestly, I have never seen or read anything from Toriko, but the game actually looks like it could be enjoyable. On top of gameplay videos for all of the Virtual Console and downloadable titles from this week there are also two preview videos for Level-5's Yōkai Watch and a video montage of entries into a Game & Wario contest to draw a mantis as quickly as possible.
Today, a Pikmin 3 Direct was also released featuring Shigeru Miyamoto and Hitoshi Matsumoto. You can check out the video in its entirety below.