No word on when NA will receive the Mii Plaza games.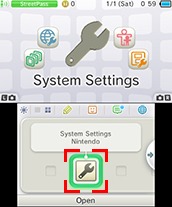 Nintendo has released system software version 6.0 worldwide, giving North American 3DS owners access to save data backup and new features for the 3DS camera app.
The save data backup feature allows users to backup save data for download titles to the SD card. The utility can be found in the System Settings, and allows users to backup one title at a time, for up to 30 titles.
Some of the software that are unable to be backed up:
Pokemon Mystery Dungeon
Cubic Ninja
Monster Hunter 3G
Reel Fishing 3D Paradise
Pokemon Rumble Blast
Freakyforms Deluxe
Pokemon Dream Radar
Senran Kagura Burst: Guren no Shoujotachi
Sengoku Musou Chronicle 2nd
Animal Crossing: New Leaf

In addition to these, all ten of the Game Boy Advance Ambassador games are also unable to be backed up.
The camera app now features various filters and manual focus, as well as the ability to manually adjust various settings such as contrast and saturation.
3DS owners in European and Japanese territories have also received additional games and features in the Mii Plaza; check out our coverage here.