Disney's new powerhouse, some 3DS love, and a couple of HD remakes.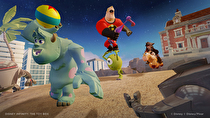 Disney Infinity - Preview by Neal Ronaghan
Disney is aiming for the throne with Disney Infinity, their foray into the toys-in-video-games market that Skylanders broke wide open. The difference with Disney Infinity is that they have licensed characters and a greater emphasis on playing in the Toy Box mode, where the entire experience is meant to emulate playing with physical toys. The array of other accessories, which are in the form of flat discs that open up vehicles and items from other Disney properties, add to the toy feel.
Disney Infinity also has a whole structured story component as well, but it's limited to only including characters from the property it's focused on. In The Incredibles play set, you can play as the cast (as long as you have the figures) in an action-packed brawler. In The Monsters University play set, the focus is on engaging in a prank war with a rival college as the Monsters U cast.
At E3, we'll see way more of the game, especially the recently announced Cars and The Lone Ranger play sets. The entire game was supposed to launch the week after E3 before being delayed to August to make sure all the figures were in wide supply.
Shin Megami Tensei IV - Preview by Kim Keller
It's been a decade since Atlus released a numbered title in the main Shin Megami Tensei series and hype has been growing since its announcement at Nintendo's E3 press conference in 2010. Thankfully, after seeing the response to Japan's release of the game on May 23, it looks like Shin Megami Tensei IV promises to deliver.
In a surprise shift from the previous entries, this fourth installment will be moving away from present-day Japan and instead focuses on an elite warrior society living in a crossover European-Japanese world in 1492. The RPG follows a silent protagonist after he is chosen by a special metal gauntlet to join the elite Samurai class, creating jealous tension when his friend, Issachar, doesn't make the cut. Battling, negotiating, and fusing demons will naturally make up the core of gameplay, and the Press Turn system of combat will be returning.
Featuring a mission-driven structure that lends itself to the 3DS, the game will arrive in North America on July 16 and Europe later this year. It has the distinction of being the first game in the main series to include full voice acting and will offer free and paid DLC. A special edition that includes a game guide and music from the series will also be available.
Phoenix Wright: Ace Attorney - Dual Destinies - Preview by Josh Max
After eight years on the sidelines, Phoenix Wright is returning to the courtroom. In his first game for the Nintendo 3DS, Phoenix, along with his new junior partner Athena Cykes, will be taking on all new cases. Dual Destinies takes place one year after the events in Apollo Justice and will feature characters from previous games such as Apollo, Miles Edgeworth and Trucy Wright.
The gameplay appears to be faithful to form, splitting the game between investigating crime scenes and battling in courtrooms. In the trailer it was revealed that a new tool, the Mood Matrix, would be used in the game. The Mood Matrix helps Phoenix and Athena pinpoint parts of testimonies that evoke certain emotions from the witnesses.
Unlike previous games, Phoenix Wright – Dual Destinies will be released via digital download for North America and Europe. The game will be released in Japan on July 25, 2013 and in NA and Europe in the fall.
DuckTales Remastered - Preview by Justin Baker
DuckTales: Remastered has been a long time coming. The original Capcom developed NES game, released in 1989 in North America, was a great example of excellent platforming combined with an amazing soundtrack. Its sequel continued the tradition of licensed excellence fans had come to expect from Capcom developed games during the NES era.
DuckTales: Remastered, announced during PAX East this year, is being developed by WayForward Technologies. It will maintain the same 2D exploration based action found in the original game, but updated with expanded story and hand-drawn sprites. Several of the original voice actors will also be lending their voices to the game, hopefully making it the definitive version that the franchise deserves. With any luck we'll be able to see more of the gorgeous artwork that WayForward has created for the game, as well as some more details concerning the expanded story.
Dungeons & Dragons: Chronicles of Mystara - Preview by Justin Baker
Dungons & Dragons: Chronicles of Mystara collects both of Capcom's classic Dungeons & Dragons themed arcade brawlers (Shadow Over Mystara and Tower of Doom) into one downloadable title coming to Wii U eShop. This re-release will features four-player drop-in/drop-out online play, updated HD graphics, leaderboards, and custom House Rules.
The Mystara games were originally released in arcades in the mid-Nineties and featured a mixture of classic beat 'em up action and light RPG elements. They were previously released in a collection on the Sega Saturn in Japan, but due to limited runs it's very difficult to find. This version is being developed by Iron Galaxy Studios, and will release on the Wii U eShop on June 18 for $14.99.
Since this will release so shortly after E3 it's unlikely that there will be a lot of new information will be revealed, but hopefully Nintendo will showcase the games running on the Wii U. Playable multiplayer at the event could be a boon for the game, as well as remind us of the Summer lineup for the Wii U.