It's a busy year for both Mario and Luigi. What will the brothers have to show?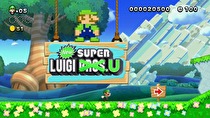 New Super Luigi U - Preview by Andrew Brown
The first significant example of DLC for a big-name Nintendo title. New Super Luigi U comes in the way of a new mode attached to New Super Mario Bros. U, completely revamping and remixing the existing 82 levels with new challenges. These new courses have only 100 seconds on the timer and incorporate Luigi's unique jumping and skidding style, making for a much more difficult game.
It was revealed in the May 17 Nintendo Direct that multiplayer will be possible via use of Blue and Yellow Toad, as well as series newcomer Nabbit, who is impervious to all enemy attacks but unable to use power-up items. In celebration of the Year of Luigi, the game will be available online as DLC for $19.99 US on June 20, or as a limited stand-alone copy for $29.99 on August 25.
It's unlikely that Nintendo has any more secrets to reveal regarding this game, but we'd like to see a playable demo at E3.
Mario Golf: World Tour - Preview by Zack Kaplan
Mario and friends are back in the fifth entry in the Mario Golf Series. Like other Mario Golf games there will be many popular characters from the Mario series to play as along with Mushroom Kingdom themed courses, including one with giant Goombas. There will also be many ways to play golf including regular golf rules, no special shots.
Separating this title from previous Mario Golf games is its online multiplayer. Like Mario Tennis Open there will be competitive online multiplayer that can be played with people around the world. There will also be tournaments which allow you to submit your score and compete against other players. Communities will also be present, first seen in Mario Kart 7, communities allow people to play based on friends or themes. Mario Golf: World Tour comes out this summer.
Mario and Luigi: Dream Team - Preview by Tom Malina
Mario might be the star of a new 3D platformer and kart racer by the end of the year, but we cannot forget that 2013 is, as officially dubbed by Nintendo, the Year of Luigi. This is made very clear by the fact that, although the Mario and Luigi handheld RPG series has given equal limelight to both brothers up to this point, the fourth instalment in the series, Dream Team, is very much the Luigi show. The entire crux of the game is built around the younger plumber, for a large proportion of this new adventure will take place inside Luigi's dreams.
From what we have seen so far, Mario and Luigi: Dream Team seems to be a natural evolution of the dual-world gameplay of the previous entry in the franchise, Bowser's Inside Story. Sometimes, the brothers will be traversing the island of Pi'illo, moving and platforming in 3D and fighting enemies with the timing-based battle system that the series is known for. At other times, Mario will enter the 2D dreamworld of Luigi. While in this world, you can play with Luigi's sleeping face on the 3DS touchscreen to help Mario - for example, pull Luigi's moustache in different directions and Mario will be catapulted through the air in that direction within the dream.
Having appeared in multiple Nintendo Direct presentations, it is unlikely that Nintendo will have much more to show beyond offering playable demos of the game in their booth. Fortunately, we don't have long to wait; Mario and Luigi: Dream Team will be launching on July 12 in Europe, July 18 in Japan and August 11 in North America.
Unannounced 3D Mario Platformer for Wii U - Preview by Andrew Brown
It's that time again, that fateful E3 where Nintendo shows off the next big venture into the Super Mario series. Lids have been kept tight on this one and besides the fact that we know it's coming, we have absolutely no idea what to expect. The last two big 3D Mario titles were Super Mario Galaxy and its sequel on the Wii, both of which took the series to new heights of perfection.
How can they improve on that? Will Nintendo continue this trend and give us Galaxy 3? Or a sequel to Super Mario 3D Land or even Sunshine? Or will we be blown away by something entirely new?
We are all waiting with baited breath.
Unannounced Mario Kart for Wii U - Preview by Tom Malina
There are a handful of staple Nintendo franchises that fall around the same point in each console life cycle, and Mario Kart is unquestionably one of them - it was hardly a great surprise, then, when we heard that, around the one year anniversary of the Wii U launch, we would be returning to the Mushroom Kingdom raceways once again. In the grand scheme of things, it has not been that long since the release of Mario Kart 7 on 3DS, which introduced airborne and underwater karting to the series for the first time, so it will be interesting to see what the main new hook will be for the Wii U game.
In all honesty, though, Mario Kart is a rather conservative franchise, really since the somewhat lukewarm reception to Mario Kart: Double Dash!! in 2003. It wouldn't be an especially daring prediction to say that this could be very similar to previous Mario Kart titles, but presented in high definition. But Sonic & All Stars Racing Transformed has already staked its claim to the kart-racing crown on Wii U. What can Mario Kart do to take it back?