Nintendo's brave isn't very default in Japan this week.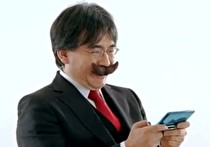 On the cusp of Wii U information being revealed worldwide, Japan surprised us all (or at least me) at the late reveal for a Wii U event of their own. Even though it has a bit of a slow week on the eShop in Japan, Square Enix did provide a new, all encompassing demo for Bravely Default. Here's a look at all of the releases for this week:
3DS Downloadable Titles
@Simple DL Series Vol. 5 The Noroi Hai Byōin ~ Tojikemerareta Kao no nai Shōjo – 500 yen
Kururin Sushi – 400 yen
Bravely Default Final Demo – FREE
Virtual Console
Megami Tensei Gaiden: Last Bible II (Game Boy Color) – 600 yen
Video Content
There's really not a ton of new or interesting stuff out there this week. There is a new commercial out for Girls Mode, showing the models strutting their stuff down the runway, get their hair done, and all sorts of other kinds of model things. There's also a new 45 second preview for Samurai Warriors Chronicles 2. The video is extremely small, as in smaller than the frame of the 3DS and just looks kind of bad. At any rate, the video shows off some of the frantic fighting as well as some cut scenes. Nothing too special here.
Closing Thoughts
When I originally wrote up this piece, Nintendo had yet to announce any kind of event for Wii U release information and I found myself disappointed and complaining. It had always seemed that ever since I came to Japan, Nintendo would typically get cool exclusive releases and even have conferences slightly before or at least at the same time as the other regions. Not more than ten minutes after I was finished writing my original piece, Nintendo made me happy to be in Japan again as they announced a Wii U Launch Presentation scheduled for tomorrow! You can rest assured that we're going to bring you all of the information as soon as we can so you know all that is going on in the Land of the Rising Sun.
This week, I decided to abstain from the 3DS eShop and save my money for another time. Even before the announcement of the Wii U Presentation tomorrow, Nintendo did leave gamers in Japan something to gnaw on in the form of a extremely quiet release of a Chotto Nintendo Direct featuring Oni Training last Friday. The video is quite lengthy and gives you a good idea of what it takes to reach a higher level in "Oni Calculation." Check it out below, and enjoy the Nintendo conferences and slew of Wii U information that will be revealed in the next 24 hours.