I'll wreck your Denpa tomato princess mini golf party!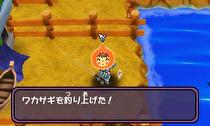 There is a colorful assortment of games coming out on the Japanese eShop this week. The last 3DS Ambassador title released alongside a couple oddities. Here's a look at what released on the eShop this week:
3DS Downloadable Titles
Fun! Fun! Minigolf TOUCH! – 500 yen
Denpan Ningen no RPG 2
Virtual Console
Wrecking Crew (Famicom) – 500 yen
Sarada no Kuni to Tomato Hime (Princess Tomato in the Salad Kingdom, Famicom) – 500 yen
Video Content
Not too long after the Nintendo Wii U Launch Presentation and the Nintendo Direct Wii U preview, Nintendo had the conferences in their entirety up and ready to view on the eShop in Japan. Also included is a preview for Wii U titles Rayman Legends, The Wonderful 101, and Bayonetta 2.
In terms of 3DS video related content, the only thing of note was a trailer for Denpa Ningen no RPG 2 and a collection of two commercials for the upcoming Girl's Mode fashion title. The Denpan Ningen 2 trailer shows some really interesting stuff, as it appears that some cool new gameplay additions, like fishing and sailing are added to the mix. Not only that, but the world map that is teased in the trailer has a pretty strong Final Fantasy vibe, with the parts of the map looking pretty similar to what was found in Final Fantasy I.
Closing Thoughts
Gearing up for TGS has left me pretty busy getting tons of things settled before I head to the show, which unfortunately hasn't given me a lot of time to play games. Still, you can bet your tail that the NWR Japan crew is going to give you extensive coverage of everything on the show floor and then some! As for Denpa Ningen 2 and the most recent demo for Bravely Default, I'm currently in the process of writing up some impressions for both coming soon, I swear! In the meantime, if you are in North America, be sure to download the demo for The Denpa Men (Denpa Ningen) on the eShop and check out all of the wackiness that it has to offer. If that's not enough and you need some more salad in your life, you don't have to feel glum about Princess Tomato and the Salad Kingdom not being available on the 3DS, as you can download it for the Wii Virtual Console in North America. For more information about that, be sure to read Carmine's recommendation.