These are the latest games under the Kirby name. Will they make it to the collection?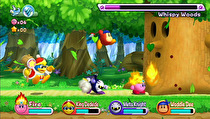 These are the very latest games to have been released. One game experiments greatly with the Kirby gameplay formula, while the other remains classic throughout, with some new additions here and there:
Name: Kirby Mass Attack
System: Nintendo DS
Release Date: September 19, 2011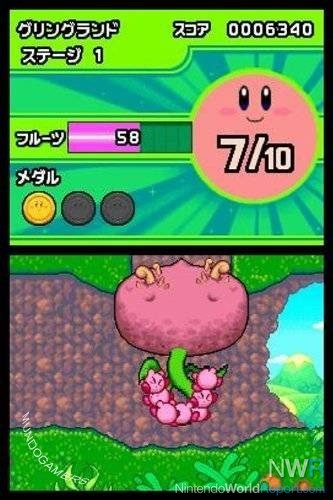 What is it?
With Kirby's final iteration on the Nintendo DS, HAL Laboratory opted for yet another experimental Kirby adventure. Like Canvas Curse, Mass Attack relies almost entirely on the touch screen to control Kirby; however, instead of one Kirby, you have as many as ten to control at any given time. This is done similarly to the Pikmin series, as you control the entire group at the same time, and like Pikmin, you attack by catapulting multiple Kirby's onto enemies. As such, Kirby lacks his trademark ability to engulf enemies to steal their powers.
Will it make the Kirby Collection?
Seeing as the game is relatively new and requires the use of the DS touch screen, it is incredibly unlikely that it would be included in the collection. And yet, that is not to say that it would be impossible on the Wii. The game could easily be adapted to motion controls, but Nintendo is unlikely to put that much work into the collection, nor would they want to cannibalize the sales of a game that is less than a year old.
Name: Kirby's Return to Dream Land
System: Wii
Release Date: October 24, 2011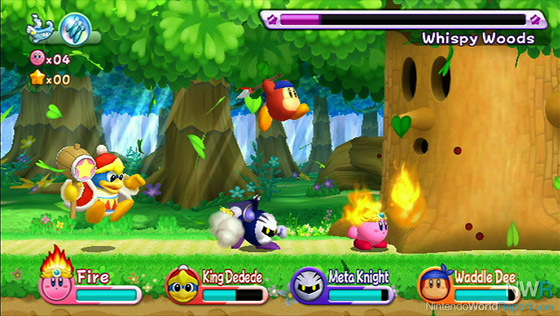 What is it?
The latest game in the series, Kirby finally made a true return to 2D platforming following several home console spin-offs. Four players can work together in the frenzy, making it more of a party game than a single-player experience, but that doesn't stop it from being one heck of a solo game. New additions are the powered-up inhaling technique that can consume everything on screen (including other players), and super versions of regular power-ups that rampage through not just enemies, but the very levels themselves.
Will it make the Kirby Collection?
The chance of this is next to impossible. It's a Wii game in and of itself and why would Nintendo package this in the compilation only a year later with a bunch of other games added on?