It's more than a well-crafted RPG; it is a story that challenges time itself.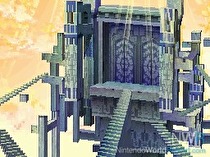 When I reviewed Radiant Historia, about nine months ago, it became the singular focus of my existence. A new DS RPG literally weeks before the launch of the 3DS seemed the perfect bridge from old hardware to new. It turns out Radiant Historia was quite a bit more; it wound up being one of the best RPGs the DS has ever seen – and, unlike many on the system, an original one to boot.
What I'm not going to use this space to do is provide a eulogy for the DS, or retread all the reasons I love this game. I've already spent thousands of words, both spoken and written, doing just that. To me, what is important in this space is that I explain the thing that make Radiant Historia special, the thing that made this game magic.
Stocke, Raynie, and Marco in and out of battle
Atlus made a brave decision in creating a game full of time travel and alternate histories. Comparisons to Chrono Trigger are common, but they sell the Radiant Histora short: time is more than a story; it's the singular attribute that links every element. It's more than a game of time travel, time is a core construct of gameplay. A fine example of this theme is the combat system where much of the strategy requires using time as a weapon. Combatants move beyond the combat grid, as an element of strategy they literally move through time. Success in battle can only be achieved by altering the flow of turns to maximize the effect of attacks and to provide the necessary opportunities for defense.
That isn't to say the story doesn't use time in an important way, and in fact it is sublime. Just managing to weave two distinct plots together, to play them against one another, and to keep them focused despite the ever-shifting flow of time is a real triumph. Well-developed and mature characters each suffer personal sacrifice, face moral conflicts, and are forced to challenge their own limitations in what changes from a territorial squabble between states into a conflict for the entire fate of the planet.
Moving time and space is the way of Radiant Historia
Radiant Histora is special. It's a beautifully crafted game, polished till it glistens. There's no doubt it is one of the very top games of 2011. The relative rarity of the game and its failure to be released outside of North America (and Japan, of course) is a tragedy. It is my most sincere hope that everyone who wants to gets a chance to play this game. And you should want to.