Several games were sacrificed for the sake of a GameCube...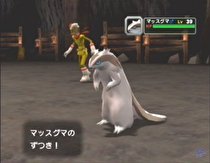 Looking back at the day I bought my Gamecube I feel rather foolish. Telling this story makes me remember how happy I felt at the time, yet angry at myself today. It is a story of both gain and loss, and shows how hastily I make decisions without thinking about their long term consequences.
In my much younger years before the release of the Gamecube I owned a SNES, NES, and three Atari systems. I never owned a Playstation or Nintendo 64, which left me unguided in my decision of which console to purchase in the new generation. Being very young, it did not really matter to me what I would recieve that Christmas.
On Christmas Day, 2001, I was pleasently greeted with a Playstation 2. This held me over for quite some time; that is until I went to friends houses and played some Super Smash Bros. Melee. Playing a game like this, which was miles ahead of the low quality games I owned for the Playstation 2, gave me a craving for the purple cube like no other.
Having just been gifted a new console that past Christmas I knew there was no way my parents would purchase another for me, despite the relatively low price. At this point I turned to something I regret to this day: selling my NES.
I knew my local Gamecrazy took trade-ins, and the NES and its games were on the list of things I could trade-in. I packaged up my NES, duckhunt gun, and my thirty some games and took them to Gamecrazy. Handing the giant box of gaming goodness over to the man behind the counter was something I felt I must do. Each game valued around a dollar or two, plus the sale of all the other miscellaneous items I had thrown in the box was enough to purchase the Gamecube.
With my Gamecube I bought Pokemon Colosseum and Super Smash Bros Melee, the latter of the two I actually enjoyed. From there I went on to play my PS2 less and less and slowly become the Nintendo fan I am today. However, to this day I still regret my decision to let go of some of my precious childhood memories, including the Super Mario Bros. games, my golden Zelda cartridge, and my personal favorite NES game Dragon Warrior.