One of the best N64 games ever sees new life on the 3DS.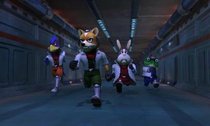 Who says you can't teach an old fox new tricks? After years of sequels and spin-offs, Fox McCloud and crew return to the N64 classic, Star Fox 64. This time, though, they have received a makeover, featuring updated graphics as well as 3D visuals courtesy of the glasses free 3DS. Star Fox 64 is an on-rails space shooter, originally known for being the first N64 to feature force feedback thanks to the Rumble Pak. While the 3DS will lack the famous rumble, it will have two modes of play: Classic, which uses traditional controls to pilot Fox's Arwing, and 3DS mode where the handheld's gyroscope is used.
What can we expect out of Star Fox 64 3D at E3? Well, with Nintendo recently talking about the game's Battle Mode, it is likely that they will show off some of that. Battle Mode will be able to host up to four players with download play. Sadly, Star Fox 64 3D will lack online play. Alongside that Nintendo will show off some of the other levels in order to present us how graphically advanced it is when compared to the N64 title.
Finally, there's a good chance that Nintendo will finally reveal the North American release date for Star Fox 64 3D. It will be released in Japan on July 14.