Andrew checks out the street fighting in Melbourne.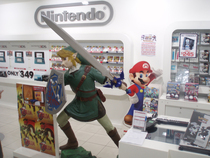 I'll admit, I'm not much of a fighter aficionado besides the occasional Smashing of Bros. and an unhealthy obsession with Taki from Soul Calibur, but I decided to hop on a train into town and check out the Street Fighter 4 3D event in the hopes of getting some more StreetPass puzzle pieces.
Like all other Nintendo events of the past few years, Melbourne's tournament was held at EB Games on Swanston Street, which features an upstairs Nintendo-only loft known as The Nintendo Experience, where Wii consoles and various DS models are set up for testing new releases and classic best-sellers. There's also a neat gallery consisting of each of Nintendo's past consoles, arranged in clear cabinets, sans the Virtual Boy (it never saw the light of day down here).
I arrived shortly before 9am when the doors, and registration, were to open, and already there was a small gathering. My 3DS was beginning to show promise with the green StreetPass light happily shining away - this was going to be a good day.
As people showed up for the tournament, many more strolled past just for the StreetPasses. The upstairs tournament announcements were broadcast over the PA to the lower level of the store where passersby could hear the goings on. I noticed many of the people drawn in by the fighting placed preorders for Ocarina of Time, and its recently-announced preorder bonus Ocarina.
In between matches, the tourney hosts held Figure Battles and trivia questions, handing out t-shirts and hats to the winners. The actual competition drew roughly 30 combatants, and battles were held over local wireless. When not battling each other, fighters partook of the nearby Wii consoles to brush up on Super Mario Bros. or Donkey Kong Country Returns.
Slowly and surely players were eliminated from the roster, and I'm shamed to say that I lost both rounds I participated in very quickly. I did, however, score a free shirt! At around midday, the competition came to a close and the victor was decided. Both first and second place got a shiny trophy with an engraved plaque.
For the rest of the day the floor was open for casual Street Fighting fun. It wasn't a huge turnout, however the event was nonetheless a successful little party. Additionally, the StreetPass scene was incredibly lively. I managed to get 28 tags throughout the day, and the Figure Battles in Street Fighter earned me enough points to go from a meager 34 figures to a whopping 389 in the span of a few hours. I hope everyone else who attended was as pleased with the results as I was!