How many versions of Street Fighter have you played?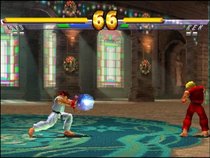 From its humble beginnings in the arcades of '87, Street Fighter was heavily influenced by 1974 karate film Clash! Killer Fist!, and even named after the American title of that same movie. Players were given one character to control, Ryu, though a second character could jump in and challenge Ryu to a duel as Ken. If they won, they would continue the game in Ryu's stead.
Street Fighter was the first game to provide an option of who to fight first, rather than just beating up a preset wave of challenger opponents until the end boss. The game was known for its secret moves, and no self-respecting gamer could honestly say they'd never heard of the famous Hadouken, translated roughly as "Wave Motion Fist" or "Surge Fist", which has been copied, parodied and portrayed in limitless games and TV shows.
After a mildly-successful spinoff in 1989 named Final Fight (and a few ridiculous bombs of SF sequels that are better left unmentioned), Street Fighter II: The World Warrior was born in March of 1991.
In came a flood of characters to choose from with vastly unique fighting styles, each with over thirty moves to memorize. Incoming attacks could be blocked to greatly reduce their damage, and opponents could be grabbed and thrown, two features that have become staples of fighting games since.
Such broad range had never been seen before. Every character was given a back-story, their own personal fighting arena positioned somewhere around the world, complete with background animations and stuff to smash.
Street Fighter II had no less than FIVE updated versions, which added additional characters, playable boss characters, alternate character sprite coloring (allowing players to fight against their own chosen character for the first time), upgraded artwork and animation and many other features. The game was ported to several home consoles, most notably the SNES along with the joystick pad known as the Capcom Power Stick Fighter.
After the Street Fighter II refinements came a three-game series known as Street Fighter Alpha, forming as a sort of prequel bridge from the events of the original game to Street Fighter II. The series featured younger versions of the main cast, some hidden characters, updated art and a revamped attack combo system. Out of the three Alpha games that were released, only one made it onto a Nintendo console: Street Fighter Alpha 2 for the Super NES.
This was followed in 1996 by the series' first 3D model iteration, Street Fighter EX. Despite the new dimension, EX played a lot like previous titles in the franchise. Even though the game suffered mixed reviews from critics, Capcom released two more EX sequels.
After years refinements and spinoffs of Street Fighter II, Capcom finally decided to release the third game in the series, Street Fighter III: New Generation, in 1997. Much as the title stated, this new Street Fighter game presented us with a brand new cast of characters, a deeper fighter engine focused on parrying, and stunning 2D graphics powered by the CP System III. In proud Capcom tradition, Street Fighter III received two more updates: Street Fighter III: 2nd Impact and Street Fighter III: 3rd Strike. Each new version of the game added new characters and refined the fighting engine even further.
With the gaming industry beginning a trend of breathing life into their classic game franchises, gamers began to wonder if a brand new Street Fighter game would be released. In 2008, their dreams became a reality as Capcom finally unveiled the first trailer to Street Fighter IV. The teaser trailer showed a dynamic battle between Ryu and Ken in a manner that resembled a painting in 3D detail.
Street Fighter IV was released in 2009, and was a celebration of all things Street Fighter. The gameplay was classic 2D fighting, as it was with Street Fighter II, but it was updated with modern sensibilities. Many classic characters would return, and were joined by new ones as well.
Soon enough, an updated version, Super Street Fighter IV, was announced and released in 2010. This new version of Street Fighter IV included even more characters to choose from, expanded online play features and even featured the return of the classic car and barrel bonus stages from the original Street Fighter II.
Super Street Fighter IV will be re-released once again in 2011, this time in the form of a 3DS launch title. Even though it is a handheld port, the 3D edition promises to have all of its features intact as well as including new ones, like a 3D mode which takes advantages of the system's 3D capabilities as well as a StreetPass mode where you can battle it out with other players by just passing them on the sidewalk.
From its humble arcade beginnings with Street Fighter to the release of its fourth iteration on the 3DS, the Street Fighter franchises has seen many changes and refinements to the formula, but players could always expect a highly polished fighting engine that was very deep but still very fun and engaging to play.