Jared thinks all games should have either flying pigs or flying exclamation marks!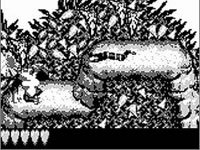 Metal Gear Solid for Game Boy Color would be a great addition to the Game Boy Virtual Console. This 8-bit game did a surprisingly good job at faithfully bringing the Metal Gear Solid experience to a portable console when it was released in 2000. Set seven years after the first Metal Gear was destroyed at Outer Heaven, the game is an original side-story that has Colonel Roy Campbell pulling Solid Snake out of retirement for a new mission.
Players get to control the sometimes grumpy Solid Snake as he attempts stop the Gindra Liberation Front from using a stolen Metal Gear prototype. The game bears a striking resemblance in both graphics and controls to the original NES and MSX2 Metal Gear titles, but there are also a numbers of elements carried over from the Playstation MGS. Stealth is greatly encouraged and players can tap on walls to distract guards or crawl under lasers to avoid detection. Familiar Codec messages are received by the main character and are used to tell the story and also give hints on how to defeat bosses and get past certain obstacles.
Fans of the Metal Gear deserve to play this game which features: a well-told story, plenty of familiar weaponry, 13 stages, slick animation, and over 180 VR missions. Konami has been a relatively strong supporter of Virtual Console in the past and it would be a smart promotion to release the GBC Metal Gear close to the launch of the 3DS port of Metal Gear Solid 3: Snake Eater. For these reasons I would say that MGS has a good chance at being released on Virtual Console.
Another game that deserves to become a VC download is Donkey Kong Land. Originally released in 1995, Donkey Kong Land is a fun platformer that features the same great gameplay found in Donkey Kong Country. While the game borrowed some music and background designs from the first DKC, Donkey Kong Land is an original adventure with new level layouts. The only feature that will be impossible to carry over to the the Virtual Console is the game's banana yellow cartridge.
Donkey Kong Land only has four worlds, but it does have lasting value thanks to a high difficulty and multiple secrets. DK's animal friends, Rambi the Rhino and Expresso the Ostrich, appear in the game along with many familiar enemies and even new ones, like Hogwash the flying pig. The 8-bit soundtrack has wonderful renditions of DKC tunes along with some original tracks.
While the greatly compressed rendered graphics haven't aged too well, the game is still a unique DKC-style adventure that many people missed the first time around. Even though Rare is the original developer, Nintendo fully controls every Donkey Kong property, so Rare's involvement would not stop a re-release. With the recent success of Donkey Kong Country Returns, Nintendo would be silly not to bring this to 3DS.