The 2live (Fami)crew coming at you with a hefty dose of Japan news!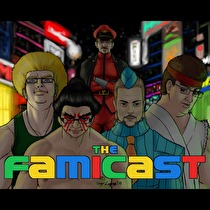 Subscribe via iTunes (Please rate and review, too!)
Your regular scruffy-beard-and-glasses duo are back for another LIVE episode. Now not live, here for your offline listening pleasure!
New business is short, because Danny has advanced one level in the skill-tree of life, meaning games have taken a backseat for now. JC on the other hand has been playing a third party WiiU game. Stop the jokes, they do exist. Anyway, it's Batman, and it's his first since one the SNES!
The rest of the show is news, news and more (Japan) news! Topics include Pokemon Shuffle, Tingle and LGBT views in Japan, Splatoon (non) voice chat, Rodea the Vapourware Soldier, 2D Metroid games on 3DS, TVii (see below for a live video demonstration near the end), Amiibo unlocking VC trial versions, plus much more!
If that wasn't enough, the news discussion moves onto the Investors Report, and the Xenoblade X (cross not eks) information blowout coming out of Japan. Will Danny finally find a reason to get a Shulk Amiibo?
The last segment is reading out all you wonderful people's tweets and messages, including a few late-coming episode 50 ones. We really appreciate all of them, and definitely reply and retweet anyone with anything (nice and/or constructive) to say about your favorite* Nintendo Japan podcast!
So grab your cowl, clear out your WiiU fridge, and get ready for another exciting journey to the land of Japan!
This podcast was edited by Danny Bivens.
Music for this episode of The Famicast is used with permission from 8 Bit Weapon. You can purchase their music and shirts from their website 8bitweapon.com
Additional music for this episode of The Famicast is copyrighted to Nintendo, and is included under fair use protection.
The artwork for the show was designed by Tony Losoya, follow him on Twitter @Tony_Losoya