This odd little elf is quite the character.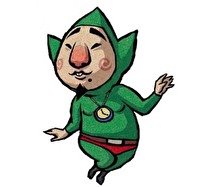 Tingle, the polarizing elf that has appeared in a handful of The Legend of Zelda games, is not gay, series producer Eiji Aonuma has confirmed.
"He's not gay. He's just an odd person," he told Kotaku.
Aonuma also discussed the creation of the character, noting that he wanted Tingle to look like a man who didn't ever want to grow up. "The whole thing comes together as a very Peter Pan kind of visual," he explained. "You know, if you think about it, it's this guy in his 30s in a green suit and is flying and never wants to grow up, it all sort of comes together around that."
Are you a fan of Tingle or do you think the Zelda franchise would be better off without him?