Seriously, I'm not really a Nintendo apologist. Maybe.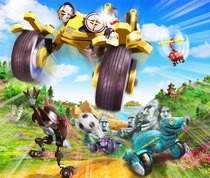 I've been musing lately about how, on the past few episodes of NWR Newscast, I've settled into the Nintendo apologist role. I'm kind of bothered by this a little bit. Listen to the episodes (#54 and #52) in question to catch up.
My love for Nintendo is vast, and it really stems from the idea that they make games I like. Do I hate games such as Halo, Call of Duty, and Portal? Not at all. I enjoy them when I play them, but they don't get me as excited as your Zeldas, Marios, or even your Punch-Outs. Those are the games I grew up with, and those are the games I still enjoy immensely. Nintendo's design style just works for me, generally.
After many years of following the company, I just accept that they're not perfect. They're going to make head-scratching moves. They're going to crap out Excitebots in North America, leaving it to die. But then, on the other hand, they give a team like Monster Games the resources to make a game like Excitebots, which is without a doubt my favorite racing of the past decade not named Mario Kart.
There's no grand point to this, other than I guess you could just call me an easy going and complacent Nintendo fan. I'm not too downtrodden about what they do, and I usually accept their faults and move on. I might, on occasion, be easily excitable, but at the end of it all, I just look forward to games that I'll likely adore. That being said, if they don't bring that Kirby Wii and DS game over to North America, I'm going to be pissed.
Anyway, here's what you can look forward to this week on Nintendo World Report:
Aaron checked out The Legend of Zelda: Ocarina of Time 3D recently, and he got to chat with Nintendo's Dan Owsen about a bunch of cool things. Coverage of that will start very soon.
James Charlton and his merry band of Cafe dreamers (yours truly included) have brainstormed several ways to use the system's potential touch screen controller.
Zach Miller, Pedro Hernandez, and I are doing the first-ever week-long Extra Life. We're looking at five Teenage Mutant Ninja Turtles games. You've likely heard of most of them, though we'll do our best to surprise you. Cowabunga and make sure you always pick Donny since he has the best range.
On the review front, we have a couple 3DS reviews in the pipeline. Josh is playing Dream Trigger 3D, Andy is adventuring through LEGO Pirates, and Matt Blundon should be digging into Spongebob Squigglepants.
Andy's also playing some tennis in Sega's Virtua Tennis 4, which oddly enough doesn't feature motion controls on Wii. Danny Bivens is rocking LEGO Pirates on Wii, but he'll likely be sidetracked by Pandora's Tower, coming out on May 26, since he's all cool and living in Japan. Jerk...
We'll also start having PrE3 coverage starting up very soon. We'll be making predictions and recapping what we know about games likely to be at the show.