Want to know what's slated to hit NWR this week? Read on.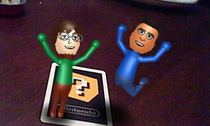 In an effort to keep you folks in the loop, I'm going to write about what's in the works here at Nintendo World Report for the week ahead. Want to know what reviews folks are working on? Want to know what features are launching soon? Read this every week to find out.
Next week, we should have a rare occurrence in these new-release-barren times: multiple reviews. Jared Rosenberg's review of MDK2, last week's WiiWare release, should be going up today. Josh Max is writing up the review for the Wii version of Thor, developed by Mushroom Men and Ghostbusters Wii developer Red Fly Studio. He should be starting Dream Trigger 3D, that crazy-as-bullet-hell shooter from D3Publisher, right after that.
Andy Goergen is playing with his Nintendogs, and he might not have a traditional review of Nintendogs+Cats, but it isn't a traditional game, so I guess it makes sense. Also, our Australia Correspondent Andrew Brown just submitted his review of LEGO Battles: Ninjago for editing. We're bustling with reviews for the first time in a while.
Our intrepid busty figurine-loving Zach Miller is salivating over Dead or Alive: Dimensions, which we should be getting in very soon, ahead of its May 24 release date. Lastly, someone will buy Mighty Milky Way, WayForward's new DSiWare game, and review that. Now that we know the eShop isn't coming until June 6, we'll need something to dry our tears.
If you're into Pokémon movies, you're in luck. Andrew Brown, Pedro Hernandez, and Josh Max are recapping all of the movies this week. Also, Pedro is launching a feature celebrating the weird side characters in the Legend of Zelda games, as part of our sort-of-ongoing celebration of the series' 25th anniversary.
This week's Extra Life is Mario Kart Super Circuit. Nicholas Bray contributes his article to the weekly column as he recounts his experiences with Nintendo's Game Boy Advance kart-racing game.