A number of videos appear to confirm last week's major leak.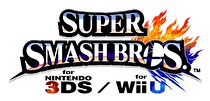 Several characters new and old might be joining the fight in Super Smash Bros. for Wii U and 3DS if a leak that started circulating last week is accurate. The newcomers that are a part of the leak are Shulk (from Xenoblade), Bowser Jr., Dark Pit, the Duck Hunt Dog, and — returning from Melee — Dr. Mario.
Last week, several leaks that shared similar reveals popped up. While some aspects of the leaks seemed flimsy, a series of videos posted today appear to confirm Bowser Jr. (complete in his clown car) and Shulk as newcomers and Ganondorf as a returning veteran.
If other parts of the leaks are correct, then Ness, R.O.B., Mr. Game & Watch, Falco, Jigglypuff and Wario will also be returning. That also means that Lucas, Wolf, Ice Climbers, and Snake might not be returning.
Super Smash Bros. for 3DS comes out on September 13 in Japan, so it looks like we will find out soon enough if this leak is legitimate or not. If it is, then the cast of Super Smash Bros. is at least as high as 49 characters.
For a good rundown of the full leak, check out the NeoGAF thread.