The real question is, will this remake be haunted?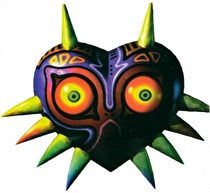 The Legend of Zelda: Majora's Mask may be getting a 3D remake for the 3DS.
A post on Zelda Informer reveals the Spanish online gaming store Xtralife had listed Majora's Mask 3D. The timing of the posting may offer some support for the rumor. A similar reveal happened to Donkey Kong Country Returns 3D before a Nintendo Direct and the next Nintendo Direct is scheduled for tomorrow.
Though the page was registered a while ago, Xtralife has been right before, listing the 32 GB Nexus 7 three weeks before its announcement.