GameFly says so, and they have been right before.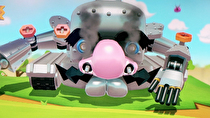 GameFly lists Game & Wario's release date as June 30.
Though not confirmed, GameFly has been right about Nintendo release dates before, most recently being Mario Tennis Open. June 30 is a Sunday, which is when Nintendo typically releases games. However, it is also the last day of the quarter, meaning it's a good placeholder date, too.
Game & Wario is a party game/mini-game collection that retains the style of Wario micro-games. You can read Daan's review here.