With a Nintendo Direct in less than 48 hours, it's time to speculate until the event starts.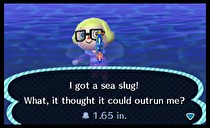 While I can't hide my disappointment that this upcoming Nintendo Direct is focused on the 3DS and not the Wii U, which needs hype and games way more than the bustling 3DS does, I'm still jazzed for whatever tricks Nintendo might be hiding up its sleeve. As part of my attempt to have measured expectations, here are my predictions for this week's Nintendo Direct.
3DS Retail Releases
As far as I'm concerned, this is Animal Crossing: New Leaf's show. We'll get more detail on the game, including an added focus on the newly added SpotPass features that compensate for the limited North American and European StreetPass possibilities.
Lego City Undercover: The Chase Begins will likely get some screen time as well. This game is less than a week away from release and we still haven't seen that much of it.
Expect a little elaboration as to what exactly is being added to Donkey Kong Country Returns 3D. We know about the easy mode and some added content, but it's still very loosely defined.
The next 3DS game I'd expect to come out is Mario Golf: World Tour, likely in July or August. I would imagine this game gets some more detail, and possibly a release date.
Mario & Luigi: Dream Team was revealed at the February 3DS-focused Direct, but I wouldn't be shocked to see this game get nothing more than a mention of a late summer release, meaning the next Mario RPG is probably due out in late August or early September.
Any other surprises? I wouldn't be shocked if we get something of a surprise announcement for a game coming either this summer, or late in the year. Maybe we'll get a tease of a big E3 3DS game (Zelda on 3DS?), but more likely, we'll hear about some third-party games getting localized. Level-5's Fantasy Life and Square Enix's Bravely Default could both be marching towards North America and Europe this summer.
3DS eShop Games
Dillon's Rolling Western: The Last Ranger came out last week. I would not be shocked if that still gets mentioned.
Mario and Donkey Kong: Minis on the Move, revealed at the last Nintendo Direct, will likely get a release date, or at least a more defined window. My money? Early May with maybe a demo out in late April.
The Guild 02 games from Level-5 could very well be mentioned in this Nintendo Direct. Remember, they were unveiled previously in a European Nintendo Direct.
Other Announcements
Miiverse on 3DS could be detailed with a more defined release window.
Maybe Nintendo will throw a Wii U bone in this event. I hope. Please. Are there any games due out on this thing in June? I don't know for sure!
What do you think will be announced or detailed? Let us know in the comments.