An image on Nintendo's Facebook page may be hinting at a possible Ambassador game.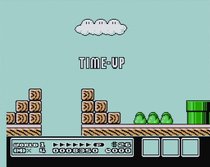 Nintendo presented its Facebook fans with an image of Super Mario Bros. 3, more specifically a screenshot of the "TIME UP" screen.
The image was used to alert gamers about the deadline to sign for the upcoming Ambassador program where early adopters of the 3DS can obtain free games to play on the system.
Originally it was rumored that the Super Mario Advance version of the classic NES title was going to be part of the deal, but this was later scrapped.
The image used on the Facebook notification may not mean anything, but considering the legacy the game has it is a possibility that the game might eventually be available for download.