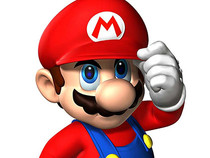 On his first Facebook status comment he says the following:
Tuesday to Seattle to record a new Mario game. I'm so excited! Woo hoo!!!!!
Last Friday on Facebook, he made another comment regarding his flight:

"Just finished recording a new Mario game in Seattle. What fun! And it's going to be a really fun one!!!"
But what truly drives the point home is that on his Twitter account Charles said the following:

Awesome new Mario Game! And it's not NSMB Wii, and it's not Galaxy 2, but it's going to be crazy fun!
Considering that we already have two Mario adventures (New Super Mario Bros. Wii next month, Super Mario Galaxy 2 in 2010), then it is likely the new game is a spin-off title. This generation we have seen only one Mario Party game for the Wii and DS, so it could be Mario Party 9 for Wii. It's too soon for a Mario kart sequel, the future of the Mario sports titles by Camelot is uncertain, and what other Olympic events could Mario and Sonic participate in?
Another thing, he never mentions consoles. The new Mario game could be a DS title, or even a WiiWare or DSiWare title.
This is where the fun begins. What do YOU think? Is Charles being his old wacky self, or is he sure that it's a new Mario title? If it's a new game, what could it be?
Our Nintendo World Report forumers have already begun discussion on this matter.