The game just came out and already the grousing about the next 2D Metroid is underway.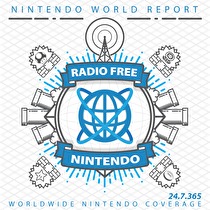 Subscribe via iTunes (Please rate and review, too!)
Last week's unprofessionalism came with consequences. Jon Lindemann has been removed from Radio Free Nintendo. To give ourselves a chance to recenter, we decided to focus on an unusually long New Business segment. Greg takes lead-off with the first properly-authorized appearance of Samus in a year, with Metroid: Samus Returns. We'll call his impressions fairly deep; as of recording he'd already cleared the game twice. For the momentous release of a 2D Metroid we give him all the space he needs - leading to a meaty 45 minutes of impressions. James has been trying to clear out his backlog, and finally got around to the trans-media property that is Final Fantasy XV. Watching the movie tie-in/trash fire Kingsglaive should have warned him what lay ahead. This may be the only game where the writers literally lost the plot. Guillaume was inspired by the announcement of Hamster's impending ports of Nintendo's arcade games to take a look at ACA NeoGeo Aero Fighters 2. A dolphin, a baby, and a robot walk into a bar and then liberate/destroy all the world's cities. Guillaume closes out the show with a look at Super Bomberman R. He still finds the game a bit rough, despite a raft of post-launch patches, but concedes that matchmaking aside they fixed online.
Jon will be un-fired, and return next week, and so will Listener Mail. You can send your questions, comments, concerns, and Metroid 2D petitions to our inbox.
This episode was edited by James Jones. The "Men of Leisure" theme song was produced exclusively for Radio Free Nintendo by Perry Burkum. Hear more at Perry's SoundCloud. The Radio Free Nintendo logo was produced by Connor Strickland. See more of his work at his website.
This episode's ending music is Title Theme from SteamWorld Dig. It was requested by Ben. All rights reserved by Image & Form International AB