All it takes is one comment about treads, and the entire segment is ruined.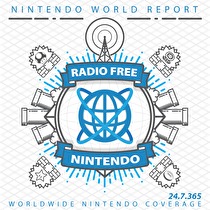 Subscribe via iTunes (Please rate and review, too!)
Switch still isn't out, and nobody on RFN has a press unit, so we're still Switch-less. Making this show has become increasingly harrowing in its absence.
We start out with New Business, which has increasingly become a misnomer. James has a look at Tank Troopers, and if it seems like Steel Diver: Sub Wars with tanks, it should; Vitei made both of them. James finds this tank rather light on fuel. Jon returns to a classic moment in RFN history, reliving his Wii fridge-cleaning on Wii U. Gui has a good game: Noitu Love: Devolution. This action-platformer is inspired by many different classic games, but builds something all its own. Greg has the newest business, The Legend of Zelda: A Link to the Past on 3DS Virtual Console. If only there was some Zelda content coming to scratch his Zelda itch.
After the break, it's Listener Mail. Topics this week: concern about Switch VC, rate my backlog, favorite "hidden features" in a console, and Greg's Gamez for Babiez. You can send us your backlog for review, via our inbox.
Next week it's time for our RetroActive on Princess Tomato in the Salad Kingdom. We'll be recording Thursday evening, mere hours before the launch of Switch. If you hurry, there's still time to get your thoughts to us via the RetroActive thread. Need to be inspired? Here's James trying to play this weird adventure game.
This episode was edited by Guillaume Veillette. The "Men of Leisure" theme song was produced exclusively for Radio Free Nintendo by Perry Burkum. Hear more at Bluffs Custom Music's SoundCloud. The Radio Free Nintendo logo was produced by Connor Strickland. See more of his work at his website.
This episode's ending music is Staff Credits from The Legend of Zelda: The Wind Waker. It was requested by Connell. All rights reserved by Nintendo Co., Ltd.